James A. Roberson is the self-proclaimed "Ed Wood of Cartoon Humor". If you are familiar with Wood's work (woodwork?) as a film director, you might think that is nothing to brag about. However, Roberson's I Love Bad Movies comic strip is not only an affectionate tribute to crappy cinema, it's also quite funny.


I was fortunate enough to correspond with James by email and he agreed to answer ten questions for this blog.

An Interview with James A. Roberson


1. What is your favourite bad movie?

I like that you understand the idea of a good "Bad Movie." Some people don't get it. I've always defined a "Bad Movie" as any cheaply made movie that's too weird for the mainstream, but still has a great deal of entertainment value.

And I don't know if I can name a single film that I love the most, but there is a type of bad movie I really like... The 80's Sci-fi Horror. Films like, Chopping Mall, Night of the Comet, TerrorVision, The Return of the Living Dead, Night of the Creeps... you get the idea.

2. When did you start I Love Bad Movies?

In 2004, I started making comics, but I really didn't do much with them because I was focused on becoming a filmmaker. (I was making my own bad movies with friends.)

Then in 2008, I got back into doing comics, and I made one about a group of friends making bad movies. And I called it "I Love Bad Movies."

That's when I started getting it out there and BadMovies.org and RogueCinema.com started using it on their sites. And Rogue Cinema still updates my comic every month, so I'm really grateful for that.

3. Is your comic just a hobby or do you have more ambitious plans for it?

The "I Love Bad Movies" comic is still something I do, but it's a part of a bigger cartoon universe I've created called JARHUMOR. Which includes spoof B-movie posters and funny t-shirts that have a Sci-fi Horror theme.

I'm slowly moving away from the name "I Love Bad Movies" because of ILoveBadMovies.com and the bad movie zine they publish. I like what they do and I think the name fits them better.

I am planning to do a comic book based on the comic strip and my poster art, but it will be called JARHUMOR and the artwork will be a lot better.

4. How would you describe your style?

I call myself "The Ed Wood of Cartoon Humor" because like Ed Wood I have all these great ideas, but I don't have the skills to make them happen the way I see them in my head.

I never took the time to develop my drawing skills like I should have; I always focused on writing jokes. So, my lack of skill has become my style, (which works in a world where anyone can create a perfect circle in Photoshop.)

5. What tools of the trade do you use to create your comic?

I draw everything by hand, then I scan it, then I use Photoshop to make into something.

And it's because of the magic of Photoshop that I never have to draw a thing more than once. (This laziness is the reason I never developed my drawing skills.) So, even if you're looking at a NEW comic, most of the characters and talking balloons were drawn in 2008.

Oh, and the lettering (that looks hand-drawn) is a font I created based on my hand writing. Yep, it's all smoke and mirrors.

And if you can't get Photoshop, I would recommend the software GIMP, which is free.

6. Do you plan on making any more motion comics on YouTube?

I'm surprised you've seen them, they're on my old RobersonHorror YouTube! They're only 30secs long and an amazing pain in the ass to make. I made them with Adobe Premiere using keyframe editing.

I keep trying to find an easier way of doing them; I even recorded the voice-overs for new ones. I really need to create some new stuff for my JARHUMOR YouTube.

7. You post your comic on several social sites (Blogger, Tumblr, Pinterest, etc.) Which do you prefer?

Most webcartoonist use something called ComicPress on WordPress. I've never used it, but I admire people who are disciplined enough to regularly update their stuff.

I just randomly throw my crap up online. I think Tumblr is great for comics; Pinterest is good for sharing my funny t-shirts... You really have to get your stuff up on as many sites as possible.

There's a film by the street artist Banksy called "Exit Through the Gift Shop" which is partly about a wannabe artist named Mr. Brainwash who has made a ton of money just by promoting the hell out of his crappy art.

It's all about promoting!

8. What would you say has been your most popular strip?

Rifftrax was kind enough to repost one of my comics on their Tumblr. It was when they were doing a Birdemic LIVE and my comic is about me making a film called Catdemic. And people really responded well to that one.

9. Who is your favourite horror movie host, if any?

I grew up watching Dr Shock's X-Ray Chiller Theater; so there's a special place in my heart for him. I also consider the guys from Mystery Science Theater 3000 as horror hosts and I've been really influenced by them.

And I've always had a huge crush on Elvira!

10. Have you ever been to a drive-in theater?

I went as a kid, but in the late 80's, early 90's; so, it wasn't a classic drive-in experience. Just whatever lame Hollywood movie had out that summer. My greatest movie experiences were staying up late and watching cheesy horror movies on cable or renting them from a Mom and Pop video store.
-----------------------------------------------------------------------------------------------------------------------------------------------
Thank you, James, for taking time to answer my questions. Those are very informative answers.
From this, I learned that James and I have quite a few things in common besides our love of B-movies. We both love
Return of the Living Dead
. We both love Elvira (how could you not?) Finally, we both like making fun of
Twilight
.
I'm looking forward to that comic book, too.
Here is just another reason why
Twilight
belongs on daytime TV with all the other soap operas.
If you're interested in purchasing some apparel or merchandise with James' cartoons, click on an image below or just go to
www.jarhumor.com
to see all the art. Products range from t-shirts, stickers, tote bags, pillows, phone cases, art prints, etc.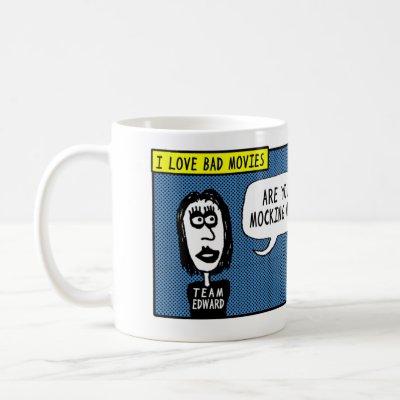 Team Ed Wood (Comic Mug)
by
ilovebadmovies
View other
Comics Mugs
This guy is here to keep an eye on things.
#GentlerHorrorFilms The Creeping Eye! It's going to creep over to where you're at and look at you! pic.twitter.com/k5ZwiTyBJ2
— James A. Roberson (@jarhumor) October 12, 2013
Let's wrap this up with a nice bow by bringing it full circle on a related subject.
Speaking of
Blood, Boobs & Beast
, you can watch the excellent documentary about low-budget horror director, Don Dohler, right here in full. If only Don's films could have been made as well as this. Sorry, but there's no Dick in this. Dick Miller, that is.