Santa Claus is abducted by Martians and forced to make toys for all the Martian girls and boys.
Pia Zadora makes her acting debut as Girmar (girl martian), sister of Bomar (boy Martian) in a shade of green that looks more like chimney soot. Thank goodness the film took advantage of this by filming in space-blazing color.
Ned Wertimer
plays TV reporter Andy Henderson after movin' on up to the north side from being The Jeffersons' doorman.
Bill McCutcheon
as Dropo is the most annoying character in cinematic history. If he were part of a Martian invasion of Earth, I would eliminate him first even if he posed no actual physical threat.
Torg the robot resembles a walking furnace and is easily manipulated by the power of suggestion.
The Martians' weapons were actually Wham-O Air Blasters that were supposed to be stun guns.
Merry

Christmas

everyone!
Enjoy this vintage commercial ad for the Air Blaster by Wham-O
Here's my slightly twisted version of a trailer for the movie.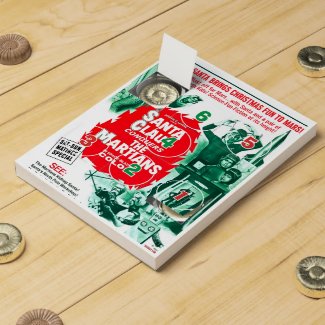 Santa Claus Conquers The Martians Countdown Calendar
by
MovieViewerMan
View Santa claus conquers the martians Countdown Calendar online at
zazzle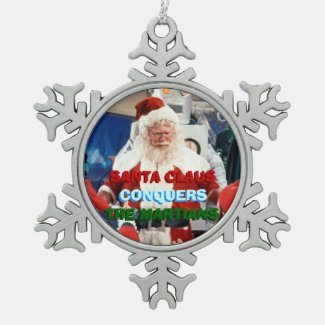 Santa Claus Conquers The Martians
by
MovieViewerMan
Look at Santa claus Ornament online at
Zazzle.com
Santa Claus Conquers The Martians Cards
by
MovieViewerMan
Design unique
personalized note cards
from zazzle.com.