The guy who restored
Manos: The Hands of Fate
in HD is now doing the same thing for
Montrosity
, aka
The Atomic Brain
. Just like
Manos
, Ben Solovey is depending on a Kickstarter campaign to raise funds to complete the project.
Solovey will be restoring an original 35 mm film print of
Monstrosity
that he bought in an auction, which was in the same find as
Manos
.
In addition to restoring the film, he will also be making a documentary about the film's director, Joseph V. Mascelli.
Successful fundraising will support the following:
For the Restoration:
Scanning of the Original Camera Negative and Fine Grain Positive on a top-of-the-line archival film scanner into the DPX format in 4K resolution.
Digitization of all audio from the Original Track Negative into 48khz uncompressed WAV Files.
Professional image restoration on PFClean and DRS™ NOVA suites to correct countless occurrences of dirt, tears, irregularities and scratches in the film.
Restoration and re-engineering of the soundtrack by an audio professional using iZotope, Protools, and other specialized hardware.
Hard drives and RAID for data capture, transportation, editing and backups. Working in 4k resolution means many terabytes of data and doubles of everything for backup.
Professional grading in a calibrated color correction suite. Even black and white films need this to ensure a consistent, accurate image across all video and theatrical formats
Long term digital storage and migration of the restored film on LTO tape or equivalent.
The creation of a 4K DCP to allow modern digital projection. A must if we are to exhibit the film.
The creation of Blu-ray, DVD and UHD home video masters, ensuring that backers get the best possible quality in their choice of format.
For the Documentary:
Offset the cost of travel and lodging in creating the documentary.
Hard drives and camera memory cards for data capture, transportation, editing and backups.
The employment of crew during filming and postproduction.
Rental of lighting, grip and sound equipment for interviews.
Legal Fees to ensure rights and clearances relating to people, organizations and publications are all honored in the making of the restoration and documentary.
If you want to see the unrestored version of
The Atomic Brain
, you can watch it in its entirety, below.
Basically, the plot of the movie involves a wealthy old widow (Marjorie Eaton) who wants a doctor to transplant her brain into the body of a beautiful young woman which she selects from three unsuspecting servants. Apparently, one of the doctor's previous experiments included a beast who looks like Stephen Stills. If you can't beast with the one you love, kill the one you're with, I suppose.
As for alternate titles, I would have gone with
What's The Matter, Cat Got Your Brain
?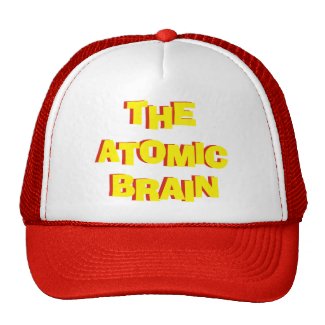 The Atomic Brain Trucker Hat
by
MovieViewerMan
Look at Sci fi Hats online at
Zazzle.com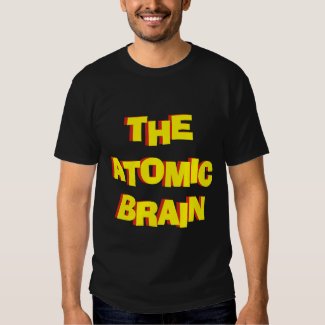 The Atomic Brain Tees
by
MovieViewerMan
Check out another
t-shirt
at zazzle.com