"Manos will be served!"
If you're familiar with this blog, then you know that
Manos: The Hands of Fate
is a guilty pleasure of mine. Ever since I watched it for the first time, I was obsessed with finding out as much as I could about its history. I love all things related to
Manos
. Therefor, it should come as no surprise that when Jackey Neyman Jones launched a Kickstarter campaign to make a sequel called
Manos Returns
, I immediately backed it and started spreading the word.
In the past, I've been inspired to create my own tributes to
Manos
, including a
mockumentary
of a documentary, a
Christmas spoof
, a
movie poster
and several
parody videos with Torgo
. So as you can see, my love for
Manos
is genuine.
The greatest thing about
Manos Returns
is that
The Master
himself approves, as you'll see at the end in the campaign video. Tom Neyman will appear in the sequel. From the projects description, it sounds like Diane Mahree (Magaret) will also be in it.
Also appearing will be the puppets from
Manos: The Hands of Felt
. I sure hope they do a better job than
ThanksKilling
did with its poorly-conceived sequel filled with puppets, which was also crowdfunded.
Don Dohler regular and one of my favourite B-movie actors, George Stover will also make an appearance in the movie.
The campaign's goal is to raise at least $24,000 in 31 days, pledged by .
Some of the rewards include:
a newly-recorded digital download of song "Forgetting You" by Nicki Mathis
your name in the credits
11x14 poster print of The Master painting, signed by Jackey Neyman Jones
DVD of finished film
signed script
signed copy of Jackey's book, " Growing Up with Manos: the Hands of Fate"
a prop replica of Torgo's staff
a 20 second outgoing voicemail message by The Master (Tom Neyman)
be an extra in the movie
dinner party with the cast
walk-on role with a line in the movie
For more details about the rewards,
visit the campaign page on Kickstarter
.
To make this movie permanent like
The Master
, donate to the campaign. Forgetting
Manos
is a thing that you cannot do.
Manos Returns
also has an official
Zazzle
store where you can purchase various products such as this wall decal. Other items available include
The Master's
image on a deck of playing cards, neck ties, wrist watches, key chains, charm bracelets and even cookies and brownies.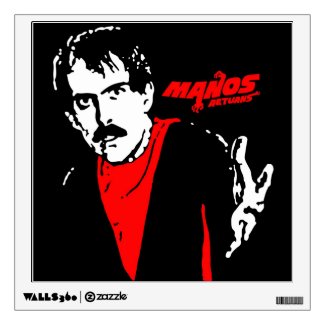 Manos Returns Master Wall Decal
by
ManosReturns
Design your own wall decals
at zazzle.com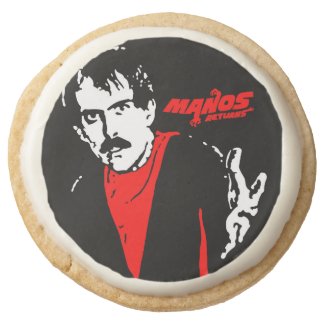 Manos Returns Master Cookies Round Premium Shortbread Cookie
by
ManosReturns
Browse
Manos Premium Shortbread Cookies
Have a look at this 50th anniversary promo video for
Manos: The Hands of Fate
that draws inspiration from
Star Wars
. Be forewarned, the Master will stare into your soul.